Modern Slavery Act 2015
The Modern Slavery Act 2015 represents a significant development in the UK's approach to human trafficking and modern slavery. The legislation seeks to address many of the criticisms which had been expressed in relation to the existing legislative framework.
Some of the most important and interesting changes introduced by the Act include:
Consolidating the offence of modern slavery into one clear definition
Extending the sentencing for those convicted of an offence to a maximum of life imprisonment
Creating Slavery and Trafficking Prevention and Risk Orders to disrupt trafficking networks
Establishing the position of Independent Anti-Slavery Commissioner to monitor work through the UK and offer advice
Enhancing the protections offered to victims, including a defence for those who commit an office as a result of their exploitation.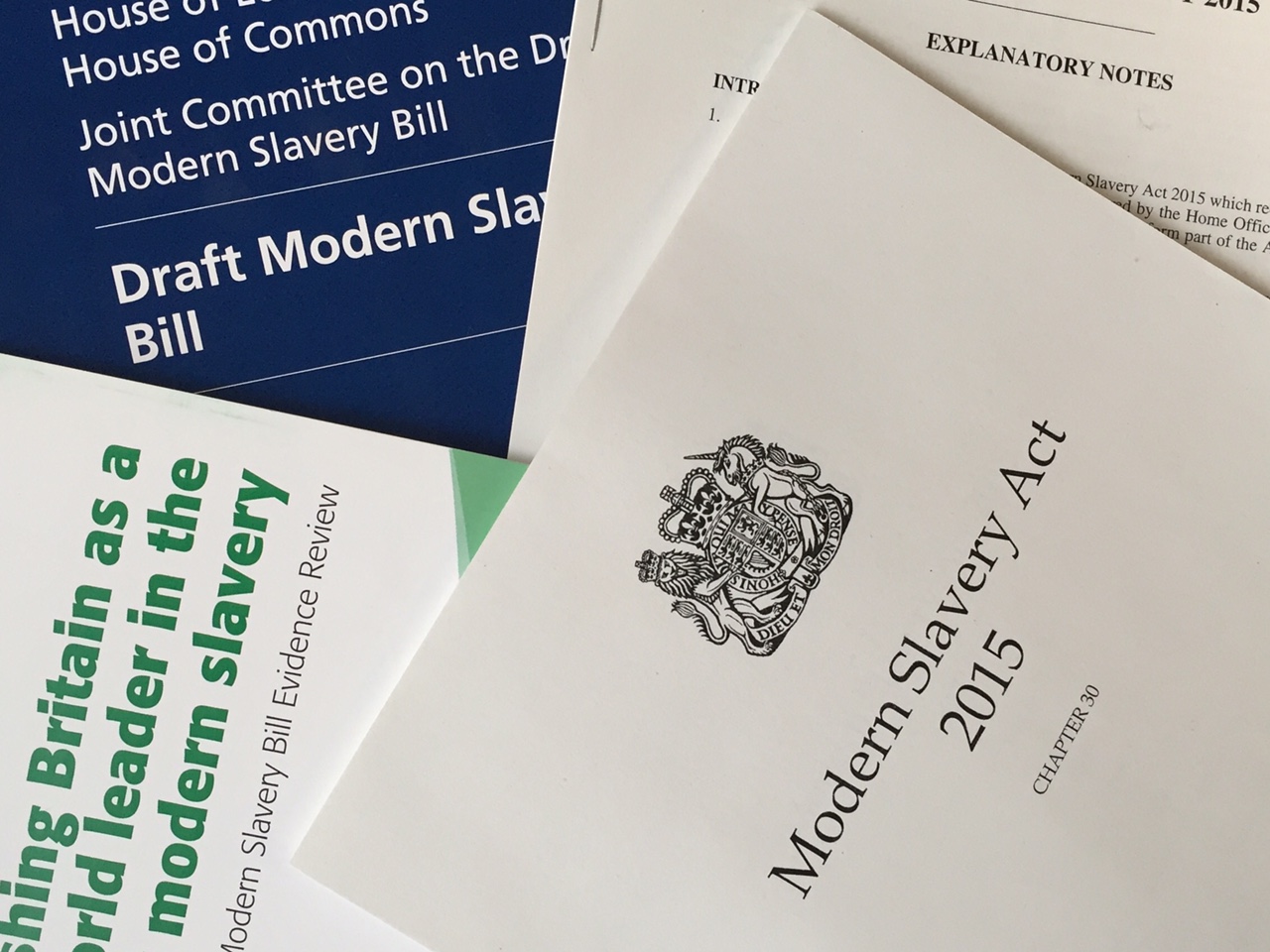 Modern Slavery Strategy
The Act is part of the UK Government's Modern Slavery Strategy, launched in November 2014.  The Strategy details a range of actions and priorities in fighting human trafficking in the UK and internationally.
This strategy builds on 4Ps:
Pursue: prosecuting and disrupting individuals and groups responsible for modern slavery.
Prevent: preventing people from engaging in modern slavery.
Protect: strengthening safeguards against modern slavery by protecting vulnerable people from exploitation and increasing awareness and resilience against this crime.
Prepare: reducing the harm causes by modern slavery through improved victim identification and enhanced support and protection
Independent Anti-Slavery Commissioner
The creation of an Independent Anti-Slavery Commissioner is one of the most significant provisions of the Modern Slavery Act.
In 2015 Kevin Hyland was appointed to the role of Commissioner, with duties to encourage best practice in tackling human trafficking and modern slavery throughout the UK. In his first Strategic Plan, the Commissioner set 5 key priorities:
Improved care for victims
Effective training and victim identification
Partnership working
Private sector engagement and collaboration
Encourage effective and targeted international collaboration
Ongoing Issues
Quality support and assistance to victims
The level and quality of long-term assistance (including accommodation, medical and mental health services, interpreting services, legal assistance) made available to trafficked people varies widely depending on the type of exploitation someone has been subjected to, their location, and the capacity of support providers.
As reported in Life Beyond The Safe House, although potential victims of trafficking are supported through Government-funded shelters, once they are identified as having been trafficked there is a real lack of support. As a result, unfortunately many end up becoming homeless, going back to the control of traffickers or falling back into abusive or exploitative situations.
National Referral Mechanism
The National Referral Mechanism is the process by which people who may have been trafficked are identified, referred, assessed and supported by the Government. Referral of a survivor into the NRM by a First Responder is the official gateway for adult victims to access safe house and other support provided under the Government contract for victims of modern slavery. This contract is currently held by the Salvation Army.
As part of the NRM process, a potential adult victim of trafficking is entitled to safe accommodation and support for a minimum of 45 days, or until their case has been determined, the so called 'rest and reflection period'.
Since its inception the NRM process has been subject to much criticism. In 2014 the Government conducted a review of the process an in 2015 pilot schemes were launched in West Yorkshire and the South West of England.
Public education and awareness
There is a widespread lack of public understanding of the problem and of its manifestations. Trafficking is multi-faceted and by its very nature a hidden crime. Those people working to help and protect its victims – whether police officers, border officials or social workers – must rely on a degree of public awareness to alert them to potential trafficking victims.
Lack of public awareness has a second, negative impact. All too often a misunderstanding of trafficking leads to the issue being conflated with issues of immigration. As long as this persists, it will be difficult to find real, victim centered solutions.