Anti-Slavery Day Media Awards 2013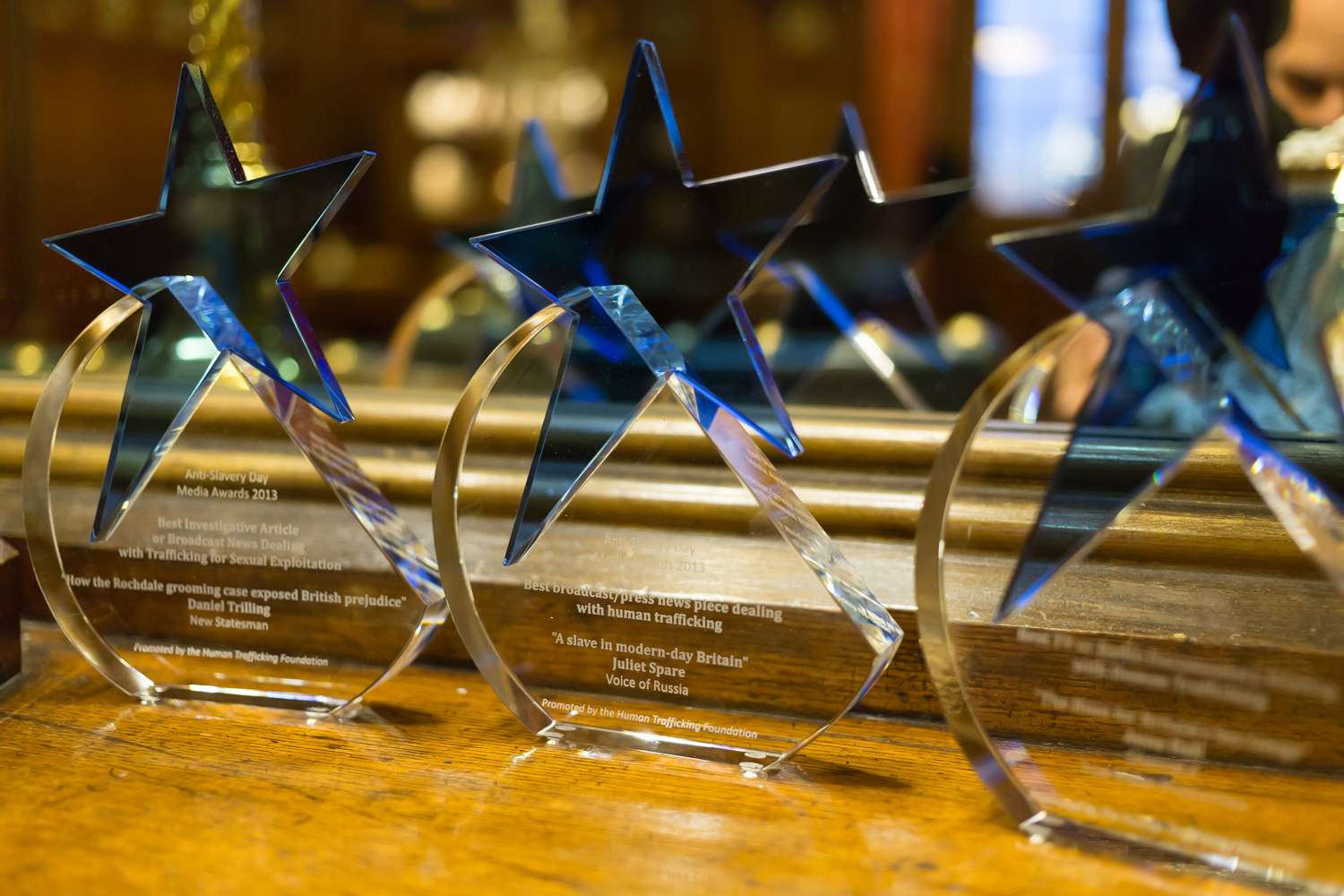 What has become an annual event took place at the Speaker's House last night, 15 October 2013. 7 Media Awards for outstanding journalism – press, radio and film – were presented by the Speaker, Rt Hon John Bercow MP who said he wanted this to be an annual event in Speaker's House and congratulated both Anthony Steen and the Human Trafficking Foundation for outstanding work in raising the profile of Modern Day Slavery and doing something about it.
The awards ceremony was organized by Tatiana Jardan of the Human Trafficking Foundation, who said: "We invited over 250 guests from media, business, charitable trust, NGOs, politicians from the Commons and the Lords. Speaker's House was heaving with commitment to fighting Modern Day Slavery".
Lord Glendonbrook was singled out as a financial pioneer in backing the Foundation's campaign to rid Britain of slavery. Anthony Steen paid tribute to the Government and in particular the Prime Minister and the Home Secretary for agreeing to bring forward new legislation in the next Queen's speech aimed at nailing traffickers and being more compassionate to victims.
The Home Secretary, Rt Hon Theresa May MP presented Marsh Awards for outstanding contribution to fighting human trafficking (List of winners 2013). She also outlined the provisions of the new Bill and congratulated all those working at the rock face and the Human Trafficking Foundation for bringing them all together at a quarterly forum. She invited Anthony Steen to become her Envoy on this subject and Rt Hon Frank Field MP to chair a pre-scrutiny type inquiry to highlight which of the 82 recommendations in the recent CSJ report should be included in the new legislation.
List of Media Awards Winners 2013
1.    Best TV or radio drama/documentary dealing with human trafficking
"Hunt for Britain's Sex Gangs", Anna Hall, Channel 4 and True Visions productions: http://truevisiontv.com/films/details/185/the-hunt-for-britains-sex-gangs
 2.   Best broadcast/press news piece dealing with human trafficking
"A slave in modern-day Britain", Juliet Spare, Voice of Russia: http://ruvr.co.uk/2012_10_18/91715199/
 3.   Best investigative newspaper article dealing with trafficking for sexual exploitation
"How the Rochdale grooming case exposed British prejudice", Daniel Trilling, The New Statesman: http://www.newstatesman.com/2012/08/how-rochdale-grooming-case-exposed-british-prejudice
 4.   Best investigative newspaper article dealing with child trafficking
"A Cinderella's Story", Sharon Hendry, The Sunday Times
5.   Best investigative newspaper article dealing with trafficking for domestic servitude and forced labour (including in supply chains)
"How poverty wages for tea pickers fuel India's trade in child slavery", Gethin Chamberlain, The Observer: http://www.theguardian.com/world/2013/jul/20/poverty-tea-pickers-india-child-slavery
6.   Best stage or film production dealing with human trafficking (including short films)
Short Film – "Dangerous Journey", Ruth Beni, Animage Films, http://www.youtube.com/watch?feature=player_detailpage&v=xosVqdLFnRo
 7.   Human Trafficking Foundation's Special Award for Most Innovative Media Initiative
Modern Day Slavery in Focus – Global Development Professional Network, The Guardian and Humanity United